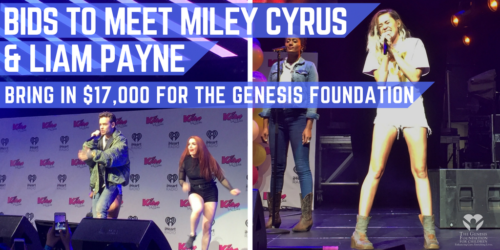 Thanks to an amazing long-standing partnership with Kiss 108 Radio and iHeart Media for the Kiss 108 Kiss Concert 2017, The Genesis Foundation for Children was the recipient of over $34,000 (gross) in donations this weekend!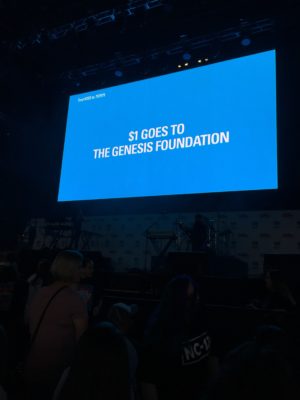 Not only did friends of The Genesis Foundation support through buying prime-seating KISS Concert tickets via donations, but also for every Kiss Concert ticket purchased, Kiss 108 donated $1 to the Genesis Foundation. On top of it all, a flood of bids came in through CharityBuzz to meet-and-greet with Kiss Concert pop-stars. The meet-and-greet opportunities included such stars as Miley Cyrus, Liam Payne, Fifth Harmony, Jason Derulo, Flo Rida, and Noah Cyrus. The auction was so competitive to meet Miley and Liam that iHeart offered a second meet-and-greet opportunity to another lucky winner, with the total two winners offering $17,000 total. (The gross auction total through CharityBuzz came to over $20,000.)
The Kiss Concert 2017 was held on Saturday, June 17th at the Xfinity Center in Mansfield, MA. Additional artists who performed were MØ, Skylar Stecker, Sabrina Carpenter, AJR, Hey Violet, James Arthur, and Jon Bellion. Guest star, Miley Cyrus, performed her new hit of Malibu at her Kiss Concert performance and she also brought 750 balloons on stage!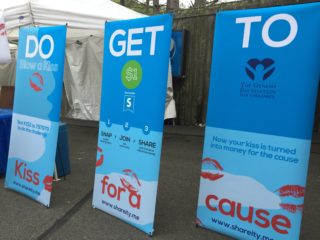 Additionally, The Genesis Foundation has partnered with Shareity App for their "Kiss for a Cause" campaign – where users of the app posted selfies blowing kisses, and for each photo snapped, $1 will be donated to The Genesis Foundation. At the concert, over 1300 selfies were snapped!
All donations from the event support the clinical care and therapy of children with genetic disorders, rare diseases, and intellectual and physical disabilities. To see ways you can get involved with The Genesis Foundation, click here. To attend additional events, click here.