The Genesis Foundation for Children hosted its First Annual Founder's Gala on Friday, April 28th, 2017 at 6:00 PM at the Hyatt Regency Boston.  With your help, this event raised over $200,000 to benefit The Genesis Foundation for Children – exceeding expectations!
It is the commitment and generosity of our sponsors, donors, and friends that enables The Genesis Foundation for Children to support programs so that children born with rare diseases and genetic disorders receive the diagnosis and care necessary to maximize their potential. This funding will continue to help families across New England for years to come. None of this could have been accomplished without this support- thank you!
PHOTOS – Please click here to see photos from the night and be sure to send us any photos you took that evening! #GenesisGala2017 @TheGenFound @thegenesisfoundation 
The event celebrated The Genesis Foundation's 35th Anniversary and the memory of its founder, Dr. Murray Feingold. Funds will be going towards therapy programs and clinical care for children born with physical and intellectual disabilities and genetic disorders.
The evening included a cocktail hour and dinner, inspiring stories of patient families supported by The Genesis Foundation, award presentation, live auction and dancing.
The event featured the presentation of the Dr. Murray Feingold Distinguished Service Award to Dr. Timothy Johnson and was presented by Charles Gibson, former ABC News anchor.  The evening was emceed by Dr. Mallika Marshall, WBZ-TV Medical Reporter, and Honorary Event Chair. Natalie Jacobson, former WCBV anchor, interviewed patient families.
Susan Wornick, former WCVB Channel 5 news anchor, served as a rousing auctioneer for exciting packages including vacation packages to Disney and St. Lucia, Bruins and Celtics tickets, and tickets and backstage tour to the iHeart Radio Music Festival in Las Vegas.
Proceeds from this event will benefit the programs of The Genesis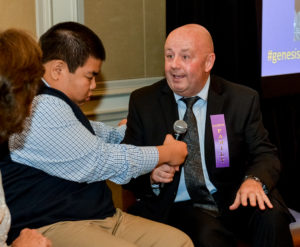 Foundation for Children and The Feingold Center for Children located in Boston Children's Hospital in Waltham.
To see additional upcoming events, please click here.