Currently The Genesis Foundation is providing grant funding to three education-based programs:
MotherToBaby (formerly known as The Pregnancy Exposure InfoLine or PEIL)
MothertoBaby Pregnancy Resource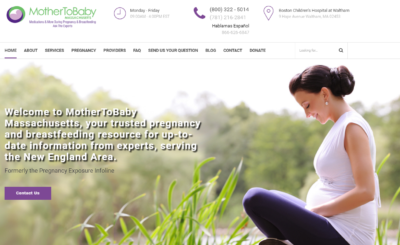 The Genesis Foundation for Children is proud to fund MotherToBaby (formerly known as the Pregnancy Exposure InfoLine or PEIL).
MotherToBaby is a confidential, free information service that is dedicated to providing clinicians, pregnant women and their families with reliable information about the potential risks of exposures before and during pregnancy. PEIL is operated by trained individuals who address concerns in a non-judgmental manner on common daily exposures such as hair dyes, paint and herbal supplements to more complex exposures including illicit drugs, medications, chemicals and more. The InfoLine offers a way for women and their families to obtain up to date information about these questions as well as reassurance about exposures which are not associated with birth defects. Healthcare providers are also able to access our services so that they may wisely prescribe medications and educate their own patients.
MotherToBaby MA (then the Pregnancy Environmental Hotline) was created in 1983 as an auxiliary service provided by The Feingold Center for Children and supervised by the late Dr. Murray Feingold. Once The Feingold Center was formed, it generated interest from the public about all aspects of pregnancy, including genetic disorders. Calls were received from concerned parents-to-be regarding hazards to their unborn child. As the calls increased, Dr. Feingold saw the need to provide assistance and information regarding various exposures and the effects of medicines on the fetus and the program was established to address these questions.
The staff of MotherToBaby MA consists of health educators and physicians who have specialized training in genetics, birth defects and teratology (the study of birth defects or abnormal development during pregnancy).
MotherToBaby MA is a member of the Organization of Teratology Information Specialists (OTIS)
To reach the Pregnancy Exposure InfoLine, please call 1-800-322-5014 for Massachusetts and 781-466-8474 (outside of Massachusetts area).
"You provided an extremely helpful and informative service at a time when my husband and I were desperately trying to find answers. I'm happy to say that, although I continued to suffer from panic disorder throughout the pregnancy and had to take medication to treat the condition, I gave birth to a beautiful, healthy baby boy. Thank you for being there during my time of need" – Boston, MA
 "I find [MotherToBaby] a valuable resource.  It is very important to be able to get accurate and fast information to my patients on the effects of drugs taken during the first trimester.  It really helps alleviate their anxiety…" – Registered Nurse, RI
Staff of MotherToBaby and The Feingold Center: 
Catherine Bearce Nowak MD, Director
Dr. Catherine Nowak is a graduate of Dartmouth College with a degree in Biology and Psychology. She received her medical degree from McGill University. Following her pediatric internship and residency at University of Massachusetts Medical Center, she completed a fellowship in Clinical Genetics and Birth Defects at the National Birth Defects Center with Dr. Feingold. She served in the position of clinical geneticist at the National Birth Defects Center (now known as The Feingold Center for Children) and went on to become the Chief of the Genetics division at UMass Memorial Medical Center. Dr. Nowak returned to The Feingold Center in 2006. She is board certified both in Pediatrics and in Clinical Genetics. She lectures extensively in community hospitals about topics in genetics.
Patricia Markland Cole, MPH, Program Coordinator
Patricia Cole obtained her Bachelors of Science degree in Biology from Simmons College in Boston, MA. She obtained her Master's in Public Health with a focus on  Maternal and Child Health from Boston University School of Public Health. She provides oversight for the day-to-day functions of MotherToBaby and promotion of the program as well as quality of service. She provides information to the public and clinicians and provides training graduate students.  She is a Board Member for the National MotherToBaby Program and serves on various committees in education, research and public affairs.
Jessica L. Douglas, MS, LGC Consulting Genetics Counselor
Ms. Douglas has a Masters in Genetic Counseling from Brandeis University. She is board certified by the American Board of Genetic Counselors and licensed in the State of Massachusetts. She been practicing in the field of genetic counseling since 2004 with experience in high risk pregnancies, teratogens and assisted reproductive technology (ART). Ms. Douglas is available to help patients and their families with their genetic questions and help facilitate testing and support. She provides genetic counseling to adults regarding personal and family medical histories as well as pre-conceptual and pre-natal concerns.
Symposium
Recently The Genesis Foundation for Children has started holding annual Symposia to educate the general public and medical community about advancements in genetics. 
3-21 Foundation – Learning Program Boston
The Genesis Foundation for Children is proud to fund The Learning Program Boston (LPB) at the 3-21 Foundation, a nonprofit whose mission is to advance innovations in education and cognition for people with Down syndrome so they can be empowered to pursue their dreams. The LPB focuses on parents and care-givers as "first teachers" for their children, using a three-pronged approach to teach, mentor, and coach families. The program consists of both an Elementary and a Middle School program for a calendar year, serving over 60 families. Down syndrome is the most commonly occurring chromosomal condition, affecting all cultures, races, and socio-economic group; this program supports a distinctive learning profile for individuals with Down syndrome by coaching families through development 
.